High Quality Marble Church Altar Table Detail:
This high quality pure white marble church altar table is perfect for any decorative church style. The marble altar is mainly made of pure white natural marble materials. There are four marble columns on the front of the altar and some meaningful logos and patterns are carved on it, which makes the artwork not monotonous.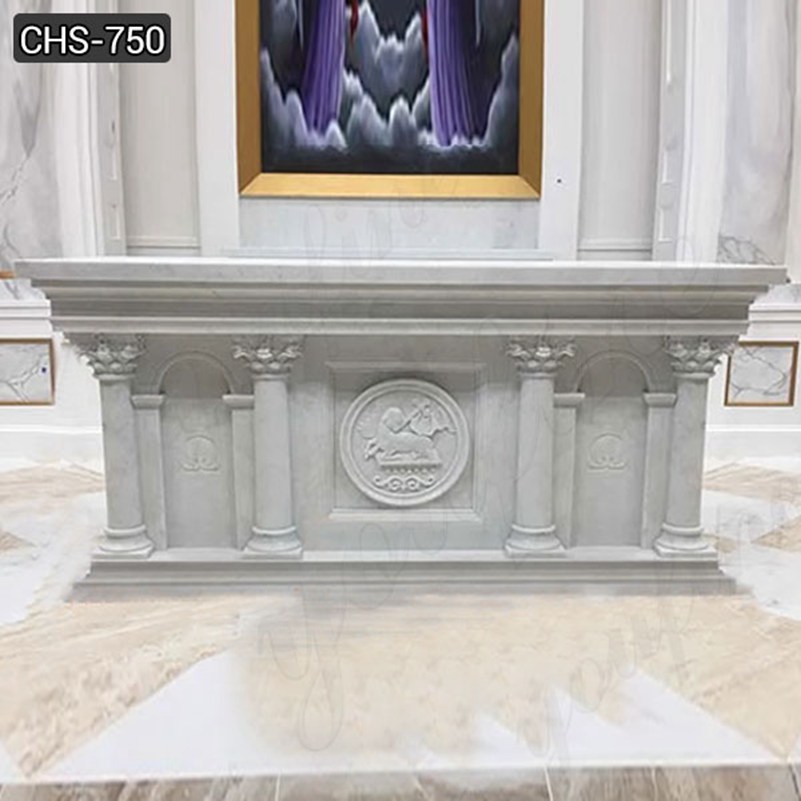 Our marble church altar table is a simple cuboid design. We have a range of sizes to choose from, of course we could also customize the right size according to your needs. At the same time, we could also carve the relevant letters or other patterns in front of the altar according to your needs.
Do you know what is an altar?
Altars are usually structures that pray or sacrifice to someone or something for religious purposes or to remember important events.
As we all know, many churches have marble altar tables where weddings, baptisms, prayers, sacraments and other sacred and meaningful ceremonies are held there. As well as individuals sometimes create personal altars at home for their private worship or as a symbolic reminder of the Romans, which calls us to "present your bodies as a living sacrifice."
At the spiritual level, everyone can say that there is an altar in it, where the flesh and the spirit fight. When we entrust certain aspects of ourselves to God, we present them on the internal altar for God's control.
So if you like our pure white marble church altar table, you could contact our staff at any time. We would provide you with the most detailed products and the latest price catalogs for your reference as soon as possible. You could send an email (sales@you-fine.com), leave a message on our website or call (0086 13938480725) us directly.
Inquiry send to us ,We'll reply ASAP and keep your information confidential