Home »
Blog
»
Five Classical Catholic Jesus Statue for Church

Five Classical Catholic Jesus Statue for Church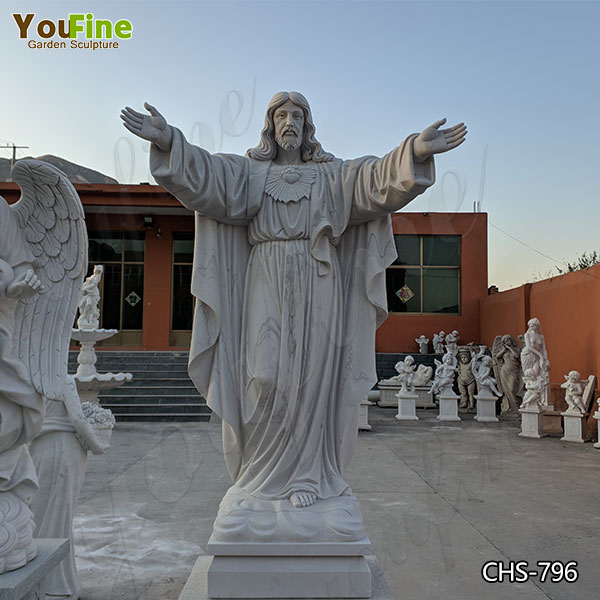 1. Large Classic Marble Jesus Statue with Hands Open
This catholic marble Jesus statue is one of the most classical religious statues. It portrays that Jesus Christ stretches his arms and embraces everything. His sight looks towards the distance and he stands there like a huge cross. His look is solemn and majestic. The statue perfectly carves the characteristics of a religious statue and is also a hot sale statue in the YouFine factory. High-quality marble, vivid facial expressions, and exquisite details show the unusualness of this Jesus statue.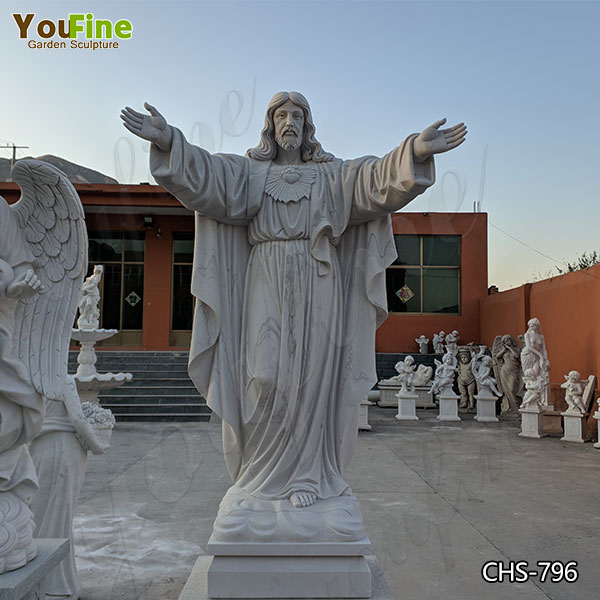 Finished by excellent carving artists of the YouFine factory, every detail of the statue is vivid and well-design. Before carving this statue, our carving masters took a few days to study the design drawings of it in order to know more about the predicted effect and carve all the details perfectly. That is the reason why YouFine could produce high-quality products all the time.
2. Natural Marble Life-Size Crown Jesus Christ Statue
This is a marble sitting Jesus Christ statue which is made of high-quality natural white marble materials, designed by talented designers of YouFine and handmade by a group of top-level carving masters. Our Jesus statue wears a crown which is made of thorns on his head, he wears a magnificent robe, and his chest bears the symbol of the Sacred Heart.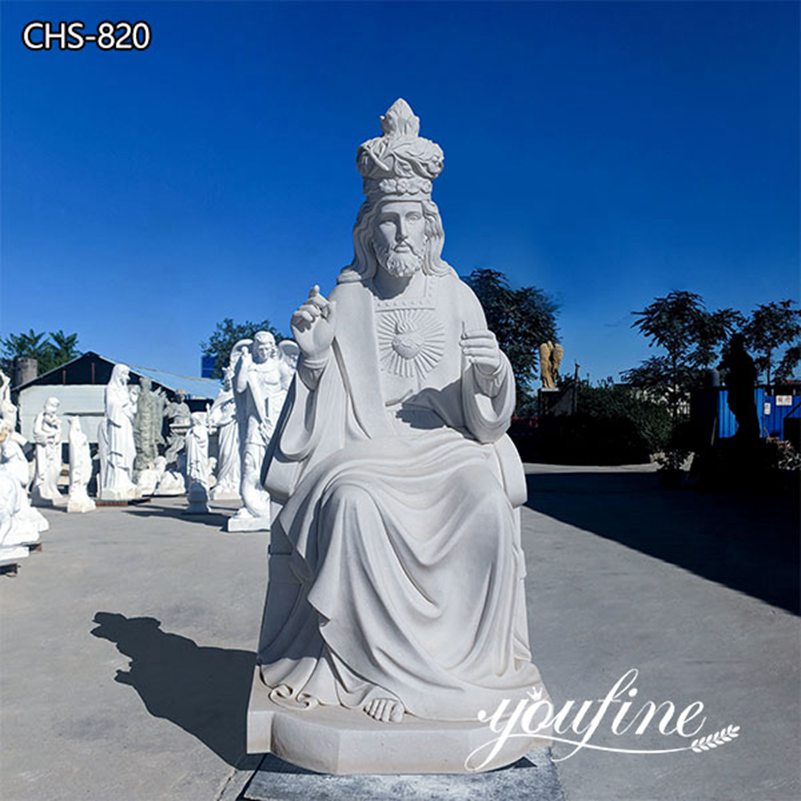 He sat there silently with a peaceful facial expression on his face. His hands keep in a fixed movement as if he is listening to the pray from people. The design has magic that could easily calm people down and it seems the existence of Jesus could solve any problem.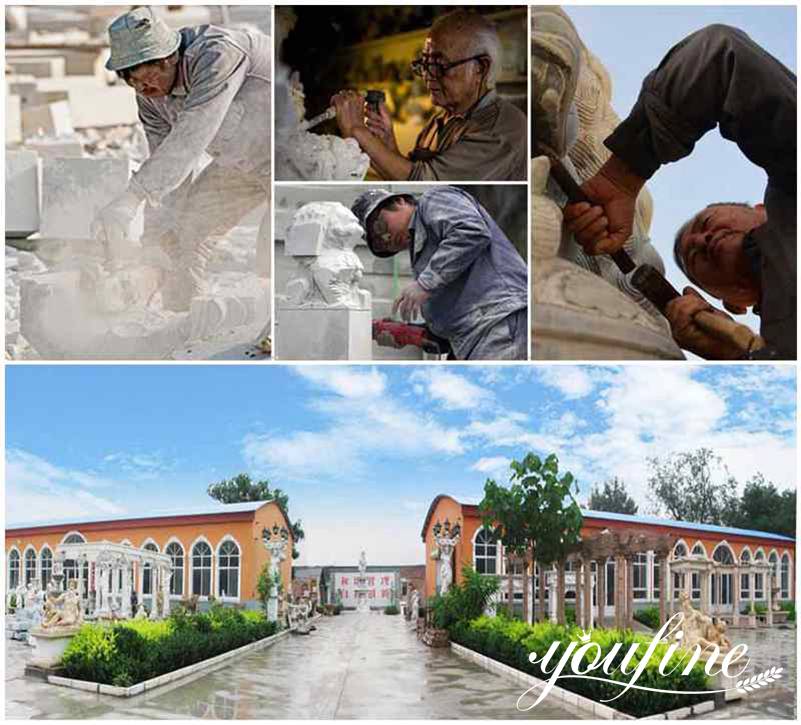 3.MarblePieta Mary and Jesus Statue Outdoor Catholic Statue
This famous marble Michelangelo Pieta sculpture is originally created by Michelangelo who is one of the most famous sculptors. And it is a popular marble religious sculpture around the world. It describes that the Virgin Mary holds the dead Jesus with depression. Although she looks peaceful and elegant the depression has been expressed by her facial expression and eyes.
The statue is made of A-grade Carrara marble and is extremely beautiful. Every detail has been redesigned by professional designers and excellent carving masters finish it carefully. Masters who are in charge of the caving of this Carrara pieta sculpture have engaged in sculpture manufacture and jade carving for decades and every tiny detail would be carved carefully and flawlessly. All these sculptures must be valuable artworks and are symbols of good tastes and high quality.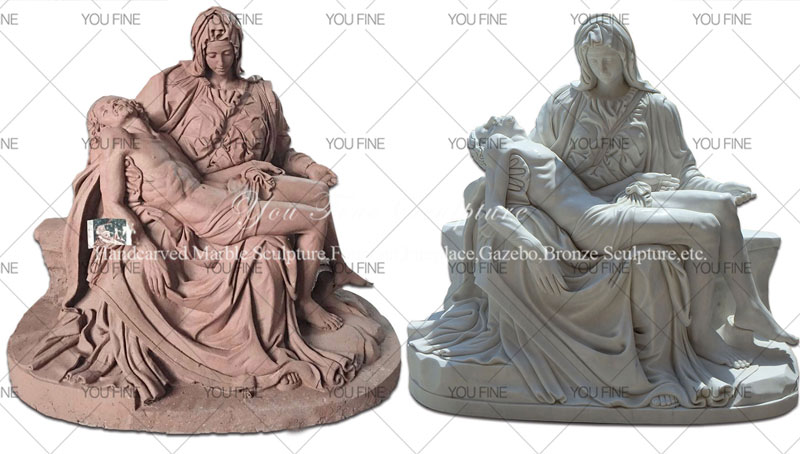 4. White Marble Jesus with Angels Sculpture
This Jesus with Angels White Marble Sculpture is a customized religious statue made by the YouFine factory. A customer from Singapore took charge of the construction of a church project and customized this statue and other religious designs for the church.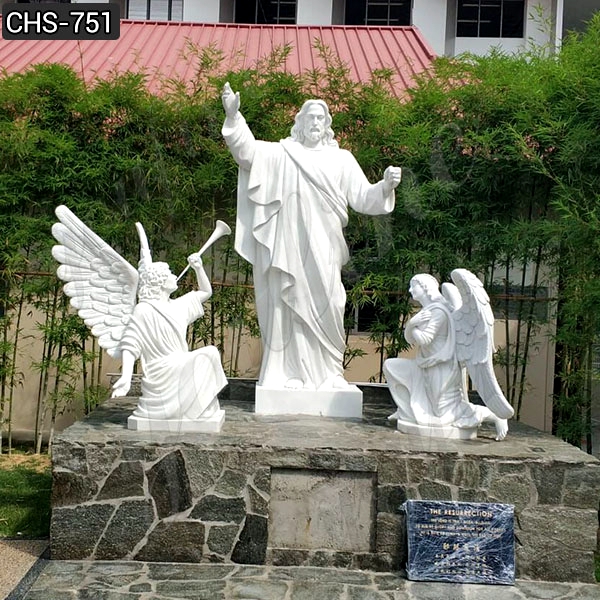 These statues use natural white marble stone as the raw material and are purely hand-carved by our professional marble carving artists. All of our carving masters pay attention to every tiny detail of the design and try their best to make the Jesus statue look perfect. So when our customers receive this sculpture, he is very satisfied with our products and decided to keep long-term cooperation with YouFine.
5. Crucified Jesus Marble Statue for Church
This crucifixion Jesus marble statue is one of the most classical catholic Jesus statues and is the most famous statue of the "Road of the Cross". It is the twelfth statue of the Road of the Cross and describes that Jesus died on the cross.
The statue is hand-carved by our professional carving masters who are experts in religious statue manufacture. The raw material of this Jesus statue is high-quality natural marble materials in order to ensure that we provide customers with high-quality religious marble sculptures.